Speaking
Available for Keynotes and Continuing Education
Call or email to inquire about my availability and fees.
Browse a list of recent and upcoming presentations to see what I've recently done and what is coming up.
Sample Clips
You can view my video appearances for news media, live educational webinars, and my recent 2013 Ignite talk on my video page.

Audio clips are below.

WARNING: Are Online Reviews Bad For Your Health? [10 minutes] This is my part of my 2012 SXSW Interactive presentation.

[audio:http://drkkolmes.com/wp-content/uploads/2012/03/KKSXSW12.mp3|titles=WARNING: Are Online Reviews Bad for Your Health (Kolmes segment)]

This screenshot below was used as an example of how I used the space provided in my own Yelp listing to address my concerns about clients leaving reviews. Feel free to click to see it in large size, and you are more than welcome to copy, borrow, or adapt it for your Yelp page: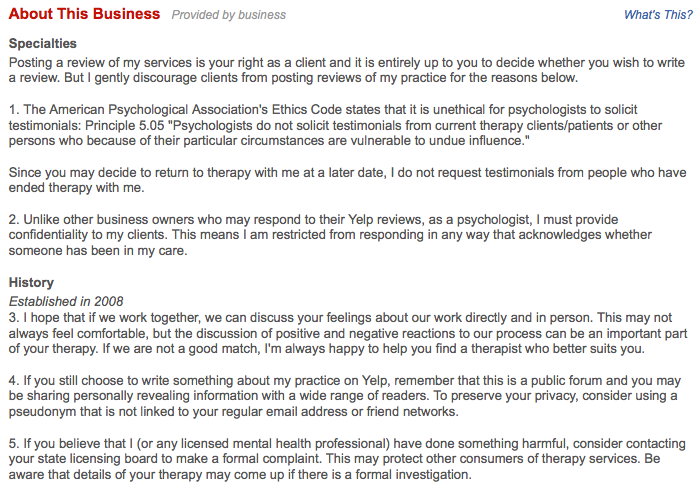 Using Social Media to Brand Yourself as a Psychologist [20 minutes] This is a presentation I gave in 2011.

[audio:http://drkkolmes.com/audio/Social-media-branding-kolmes-edit.mp3|titles=Social Media Branding]

Here are links to the websites I referenced in this talk:

Dr. Heather Wittenberg's Babyshrink page
Dr. Marlene Maheu's Telemental Health Institute
Dr. Susan Giurleo's website
Dr. Joe Bavonese's Uncommon Practices
Speaking Feedback and Ratings
Whenever I speak, I have participants evaluate my performance. I appreciate the opportunity to learn how to become a better presenter. Here are some of my more recent ratings. You can click on all images to enlarge them.
Ethics and Social Media in the Future of Psychology
June 20, 2014
6 hour CE presentation to 91 attendees in Rockland Maine
Ethics Pitfalls and Opportunities in Social Media
June 7, 2014
4 hour CE presentation to 45 attendees at Argosy University, Alameda, CA
Digital and Social Media Ethics for Psychologists
October 19, 2013, 2 hour CE presentation to 20 clinicians at Los Angeles County Psychological Association
Feedback received from 20 psychologists after the training.
Key: 1 = absolutely not 2 = probably not 3 = uncertain 4 = somewhat 5 = absolutely
You may click on the chart to view it in larger size.
Digital and Social Media Ethics Presentation to Santa Clara Psychological Association
May 20, 2012, 3 hour CE presentation to 25 clinicians
Key: 1 = poor 2 = fair 3 = good 4 = very good 5 = excellent