Facebook has released a new Location feature that already has critics — including the ACLU — worried about privacy concerns. As someone with a Facebook account, I found myself once again wondering why it was that I was hearing of new features on Facebook from news sources, rather than being notified of them when logging into my account. If you care about your privacy or you work with co-workers or clinical populations who have privacy worries, you may want to be aware of the new information that may be shared.
Those who want control over Locations should take the following steps.
1. Log into your Facebook account and in the upper right hand corner where it shows Account, click on that and drag down to Privacy Settings.
2. Here you will see what you are sharing on Facebook. Check to see what is selected for Places I Check In which may be set up as "Everyone," Friends of Friends," or "Friends Only."
(Clicking on all images will let you view them in large size.)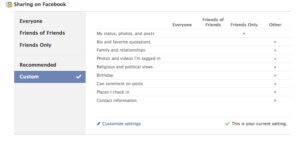 3. If you want to modify the setting, click on Customize Settings at the bottom.
4. This will bring you to the following screen.
5. If you want the greatest level of privacy, you would make sure three things are selected here:
First, make sure "Only Me" is selected for "Places I Check In."
Second, Disable "Include me in People Here Now" after I check in. Enabling this will allow others to see if you are at the venue (feel free to click the "See an example" link on Facebook to see what this will look like to anyone else checking in).
Third, at the bottom, make sure "Friends can check me into Places" is Disabled.
You can read more about the new feature and the concerns of others on mashable and also on Violet Blue's blog in which she publicized the potential problem raised by @RodBegbie about what happens when someone adds your home address as a venue on Facebook. It sounds as though users will have to go through a tedious process of flagging a venue and then waiting for Facebook to respond in order to get their personal information removed.