I'm back from SXSW, where I got rained on HARD and also got to network and socialize with some of my favorite people. My session was on the challenges raised by consumer reviews of healthcare providers. You can read the Storify story of tweets below.
Thanks to everyone who came and asked great questions!
Check out the audio from my segment of our presentation:
My slide: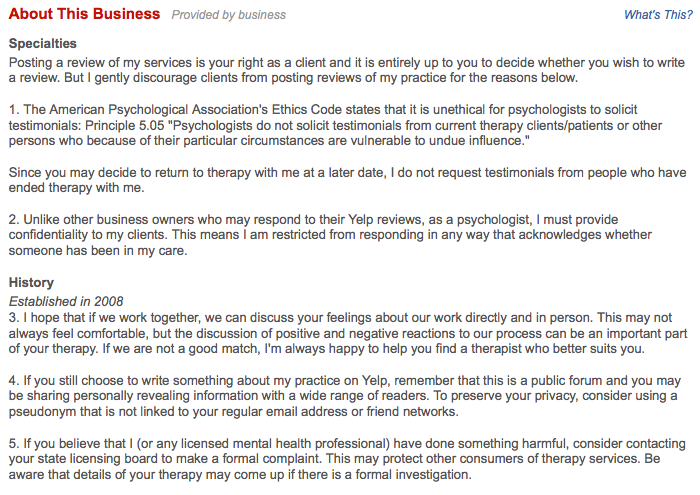 You can also hear the full audio here, and view the Storify tweets below.
Tweets from SXSW session WARNING: Are Online Reviews Bad for Your Health?
Session moderated by Cindy Cohn, Legal Director of EFF. Panelists: Jeffrey Segal, CEO of Medical Justice, Dr. Keely Kolmes, SF Psychologist in private practice, and Vince Sollito, VP at Yelp.
Storified by Dr. Keely Kolmes · Mon, Mar 12 2012 14:21:29
Heading out to catch the #drreview discussion at #SXSW involving @drkkolmes @EFF and others.VogeleLaw
Ready to vigorously defend the cause, it will be a spirited discussion at 3:30's Are Online Reviews Bad For Your Health? #sxdrreview #sxswJasonLotkowictz
Hashtag for our #sxsw is #sxdrreview looking forward to your tweets and participation. Starting soon!drkkolmes
In about 10 minutes we'll be livetweeting "WARNING: Are Online Reviews Bad for Your Health?" with EFF Legal Director Cindy Cohn #SXDrReviewEFFLive
The #sxdrreview panel at #SXSWi (l to r): Cindy Cohn, Dr. Jeffrey Segal, @drkkolmes and @vincesollitto http://pic.twitter.com/yc2NLJh9VogeleLaw
A very timely presentation @nelsonutah1 WARNING: Are Online Reviews Bad for Your Health? at SXSW 2012. #sxsw #DrReviewbmgresh
Are online reviews bad for your #health? We presume that they will incentiviize you to deliver better #quality #SXdrReview #SxSWiHuntingtonNews
Cohn: People's unprecedented ability to share their impressions is a unique problem for doctors, who can't publicly respond. #SXDrReviewEFFLive
Speaking first is Jeffrey Segal, MD, JD, and CEO of Medical Justice. #SXDrReviewEFFLive
Segal: Picking a doctor is about more than taste. Do review sites help patients (or parents) make good decisions? #SXDrReviewEFFLive
Algorithms can flag a provider with a limited license, even if that limit is not based on malpractice (ie traveling experts) #sxsw #DrReviewMikeLICSW
Segal: Average doctor sees 1k-2k patients a year, but have only 0-3 ratings on review sites. No "wisdom of the crowd." #SXDrReviewEFFLive
The most satisfied patients have the highest mortality rate per Dr on panel #drreview #sxswMikeLICSW
Segal: Doing the right thing is not always popular. If a doctor e.g. denies additional Vicodin refills, they may get bad reviews #SXDrReviewEFFLive
doctor review sites: not every poster is a patient. could be from a competitor. hipaa prevents full responses from docs #sxdrreviewkimbennettnyc
#sxdrreview Jeffrey Segal of Medical Justice is discussing the development from (c) contracts to crowd sourced reviews from real patients.VogeleLaw
Segal: Study showed satisfied patients are less likely to make ER visits but more likely to die. Is satisfaction a good metric? #SXDrReviewEFFLive
I doubt it mRT @EFFLive: Segal: Picking a doctor is about more than taste. Do review sites help patients make good decisions? #SXDrReviewElinSilveous
Segal: When will be able to depend on medical review sites? When doctors and nurses use them to pick their own doctors. #SXDrReviewEFFLive
Respectfully disagree w/ Segal's quote – Docs/nurses are the last people who need better visibility into quality of other HCP's #sxdrreviewJason Lotkowictz
Now speaking is Keely Kolmes, a licensed psychologist. She says there need to be good, objective sources of doctor info. #SXDrReview.EFF Live Tweets
@drkkolmes feels strongly that patients need places where they can get good strong information abt providers. Agree! #drreview #sxswMikeLICSW
Aggregation of data seems to be a recurring theme and a recurring need throughout the #SXSWh track. #sxdrreviewCommunicateHealth
Doctor fear: will the medical board think I'm soliciting reviews? #sxdrreview #sxswKelly McCormick
@drkkolmes talking about the challenges of metal health providers and online reviews. #sxdrreviewReed Smith
Kolmes: An extra complication for psychologists – they are prohibited by ethical guidelines from asking for testimonials. #SXDrReviewEFF Live Tweets
Kolmes: I asked Yelp to remove my business page which had no reviews, but they wouldn't remove a public business. #SXDrReviewEFF Live Tweets
Therapists can't respond to a review because that itself violates the patient right to privacy #drreview #sxswMikeLICSW
On the other hand, therapists can ask colleagues to post positive collegial reviews. #drreview #sxswMikeLICSW
Kolmes: Yelp (et al) cater to people who are angry and upset or over-the-moon elated. Those are not necessarily useful reviews. #SXDrReviewEFF Live Tweets
Many sites @ docs are people either posting @ being v happy or hating their doc. We need meaningful & objective data. #sxdrreviewKim Bennett
Kolmes: Confidentiality rules "muzzle" doctors in a way that creates additional problems and tensions. #SXDrReviewEFF Live Tweets
@drkolmes – "review sites are not the best way to protect other consumers." #SXDrReviewReed Smith
Kolmes: Can we get more objective info from doc review sites? Yes! Cost estimators, # of surgeries, disciplinary actions etc #sxdrreviewJason Lotkowictz
Now speaking is Vince Sollitto, VP of Corporate Communications and Government Affairs at Yelp. #SXDrReviewEFF Live Tweets
Yelp was originally created by the founder because he wanted to find a good doctor in a city he had moved to. #drreview #sxswMikeLICSW
Sollitto: 80% of reviews on Yelp are 3 or more stars. It's not just a place where people rant. #SXDrReviewEFF Live Tweets
That's the problem: 80% of reviews being "positive" suggests a bias in reviews and data. Not accurate = not reliable #SXDrReview #sxswDr. John Grohol
One more example for #sxdrreview: Plastic surgeon sues former patients for comments made in on-line reviews http://bit.ly/xFDn1sAngilee Shah
Sollitto: In CA, we have a great anti-SLAPP law. Businesses that sue consumers for writing reviews and lose must pay costs. #SXDrReviewEFF Live Tweets
Sollitto of #Yelp talking about online physician reviews. I once did a review on a physician online – it wasn't positive. #sxsw #DrReviewHITManZac
Spirited debate abt #hcsm going on at #drreview #sxswMikeLICSW
Health care reviews growing on Yelp, says Vince Sollitto. Doctors should respond to patients privately, add profile info #sxdrreview #sxswhAngilee Shah
Solitto: iPads in waiting rooms could be considered coerced. #sxdrreviewKelly McCormick
what do you think about having ipads in the docs office for patients to give an anonymous review of their office visit? #sxdrreviewKim Bennett
Negative review is opportunity for MD to solve a problem. Like any other business, respond to pos & neg feedback. #sxdrreviewSingularity Design
This panel highlighted the need for docs to post info about their practice themselves because they can't respond to reviews #sxdrreviewUChicago Medicine
Segal: Medicare's upcoming release of data should improve patients' ability to make good decisions about healthcare providers. #sxdrreviewKelly McCormick
Need more objective data than stars: can I get an appt, what's MD bedside manner, does MD take time with me? Vince/Yelp #sxdrreviewSingularity Design
Excellent discussion of bad reviews and doctors in #sxdrreview. Lots of great points from the panelists. #sxswRocky Epstein
Q: Is something legal or political standing in the way of doctors reviewing doctors? Segal: Maybe not, but may not be scalable. #SXDrReviewEFF Live Tweets
Cohn: Lawyer ratings that incorporate peer evaluations are not very useful, either. It end
s up being a popularity contest. #SXDrReviewEFF Live Tweets
Review sites like Yelp can just act as venting medium… And aren't scalable (who wants to read 200+ reviews?) #sxdrreview #sxswDr. John Grohol
Segal: Pioneering doctors have started to direct patient conversations by pointing them towards reliable medical info sites. #SXDrReviewEFF Live Tweets
Sollitto: Consumers read reviews differently from businesses. They're more able to weed through and decide which are worthwhile. #SXDrReviewEFF Live Tweets
So engaged in #sxdrreview panel I didn't even tweet! #sxswhAmber Holick
That wraps up "WARNING: Are Online Reviews Bad for Your Health." Thanks for following! #SXDrReviewEFF Live Tweets
Thanks to everyone who came out to our session. You can catch up on ze tweets at #SXDrReview thnx Cindy Cohn for moderating!Dr. Keely Kolmes